Engineering & Project Management Services in Edmonton and Throughout Alberta, Canada
Michael Lawal, President
Michael Lawal, President of Khanatek, is a Professional Electrical Engineer with
more than 30 years' experience
in electrical engineering, construction, and project management. Michael has practised engineering both in Canada and abroad. He has worked in the commercial, utilities, oil and gas, EPC, and metals refining sectors.
Michael holds a bachelor's degree in Engineering from the University of Leicester, England, a Master's degree in Electrical Engineering from the University of Alberta, Canada, a Master of Business Administration from the University of Ibadan, Nigeria, and a certificate in Information Technology Management from the University of Alberta, Canada.
In his diverse thirty-year engineering career, Michael has held positions with these companies and institutions:
THE DESIGN GROUP, Edmonton, Alberta (Electrical Engineer)
Pro-Consulting (Design & Build) Inc., Edmonton, Alberta (Electrical Engineer/Consultant)
Z.I. Solutions Inc., Edmonton, Alberta (Electrical Engineer, Research and Development)
Automatic Controls Ltd., Edmonton, Alberta (Project Manager/ Design Engineer)
Labeico Engineering Company Limited, Lagos, Nigeria. (Managing Director)
Amilek Engineers Nigeria Limited, Oyo State, Nigeria (Project Manager)
Obafemi Awolowo University (formerly University of IFE) , Department of Electronics and Electrical Engineering, Osun State, Nigeria (Lecturer /Assistant Professor)
Nigeria Electricity Supply Corporation, Plateau State, Nigeria (Electrical Engineer)
Mobil Producing Nigeria, Nigeria (Junior Electrical Engineer)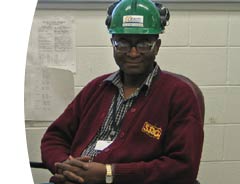 Michael also spent four years as an Electrical / Instrumentation Maintenance Supervisor with Sherritt International Corporation. This
front-line experience in electrical systems maintenance
has given him priceless
insights into the ways that system design will affect system performance and operating costs
. Michael uses this knowledge to guide his design team in the delivery of
practical, cost-effective solutions
. Michael's additional affiliations and qualifications include:
Professional Electrical Engineer (Licensed by APEGGA)
Member, Institute of Electrical and Electronic Engineers (IEEE) (Chair, IEEE Northern Canada Section (2003-2004))
Member, the Project Management Institute (PMI)
Project Management Professional (PMP)
LEED Accredited Professional
Fellow, Nigerian Society of Engineers (1997)
A seasoned consultant and engineering team leader, Michael coordinates the Khanatek team in its mission to deliver quality engineering services that are within schedule and within budget.


Experienced, cost-effective
engineering and project management.